So this was originally supposed to go out last week, but ya know — shit kind of hit the fan last week and to say it's been an adjustment would be a gross understatement.
Musings
After spending the weekend dealing with depression, horrible cramps and all things COVID-19, I'm ready to get back to a normal routine. Or at least, I'm ready to figure out what my new normal is.
Like many of you, last week was full of changes. The kids are out of school (with no return date in site), youth sports got cancelled for my kids, the neighborhood playgrounds are off limits and whole mess of other normal routines for us have been cancelled or postponed. And while we're social distancing as best we can, cabin fever is real and I'm just not sure how many more walks around the neighborhood "just to get out of the house" are gonna cut it.
I gave myself the weekend to be in my feelings about everything. All the things that pushed me out of the house and out of my head have been cancelled, so depression started kicking in. The small businesses I freelance for have all cancelled services for the foreseeable future. My anxiety has been really high. And while I have not panicked about supplies through any of this, over the weekend, some of that fear wormed its way into my head — will I be able to buy food for my family when I finally do need to go to the store? My husband went to four stores on Friday and couldn't even find salt and pepper, so I began to worry. Plus, to make things even more fun: I started my period and had horrible cramps over the weekend.
So I let myself become a potato.
I stayed in bed, watched way too much TV and played Animal Crossing (side note: if we need to exchange friend codes, dude…let's do it!). I pretty much only drank wine, ate popcorn and peanut m&ms. I didn't put on my watch because I was tired of the notifications to breathe and get up. Like no. I just wanted to be miserable.
And that's ok — to an extent. I needed to work through it.
I've learned to give myself a day or two of just being a poo-poo potato. After that, though, I push myself to get out of the funk. Sometimes I'm successful at this. Other times I am not. Other times it takes weeks to get out of the funk.
Thankfully, I managed to get out of it. I had friends check in on me over the weekend which reminded me that I'm not alone. This morning I got up at 5am, had some coffee and did an online workout — my husband even joined me! — which instantly helped to put me in a better mood.
Writing this newsletter helps, too. It brings back a sense of normalcy to all the crazy. Later today, I'm going to find time to paint and I'm going to reassess my Patreon. On Friday, I made the decision (making decisions whiled depressed is not recommended) to cancel my Patreon for the month of April.
But today I'm feeling better, and I think I can keep up with it. Posts might be posted int he afternoon vs the morning, but I'm pretty sure I can stay committed to it. It's something normal and routine, and I need that right now.
How are you holding up? In what ways are you managing to keep things routine and normal? Remember to check in with a friend or two — you never know which of them might need it. Just sayin.
Magic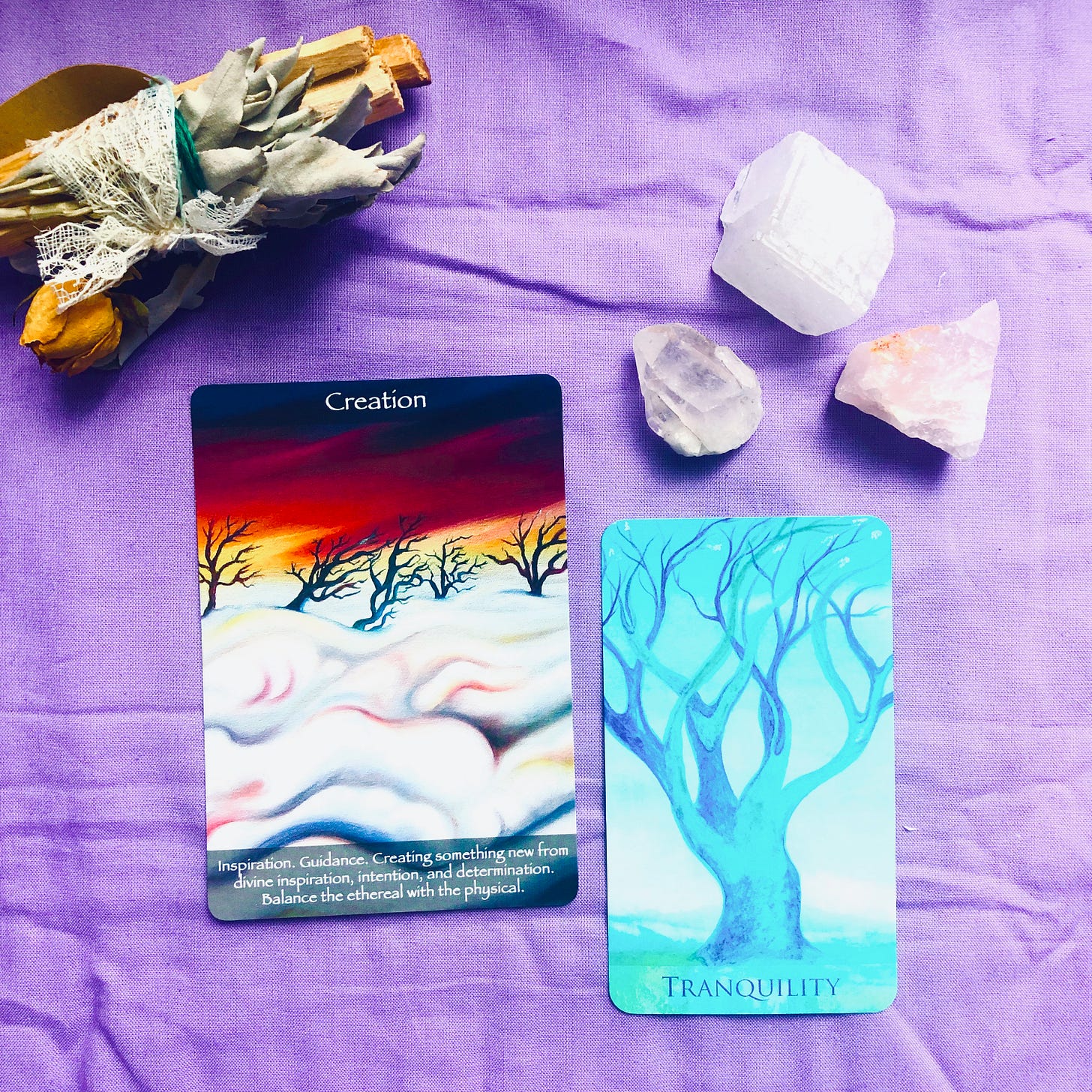 One of the things I've noticed the most through out all of the talk of COVID-19 and self isolation/social distancing, is how this is a good opportunity to learn a new skill, clean house, make some new goals, etc.
It can be overwhelming to feel like you have to be doing something extra productive while staying home. I typically work from home, but I have learned to set some pretty firm boundaries. For instance, work only happens at my desk — never, ever in bed! — and work also only happens during certain set hours each day. I might do different things every day or focus on specific clients on a certain day, but the work time remains the same.
I set these strict boundaries because home is not just where I work. It's where I relax, play and spend time with my family, too.
It's something to keep in mind as we're all social-distancing. Now that I'm homeschooling my daughter, we had to create a routine that worked for us. Not just for me or just for her, but for both of us.
So she gets to spend the morning watching cartoons and eating breakfast, while I knock out one of my workouts and see if I have work for the day. Around 9am (it's not a strict timeline) it's time to get both kids up and moving, so we'll do a workout together or go for a walk around the neighborhood. Afterward, she'll start her lessons for the day. Break for lunch, do some art…low key and zero pressure.
But! We did create a space in the house just for school.
Home is still a place for play and relaxing, so school work is only done at the desk.
Yes, this is a great time to get into something new or to start a project you previously didn't have time for. The first card (Creation) says:
Inspiration. Guidance. Creating something new from divine inspiration, intention and determination. Balance the ethereal with the physical.
So yes, absolutely set a goal to clean out the garage or learn a new hobby. Create a new routine for you and your kids.
But do it without the pressure. School work not happening today? That's ok. Maybe do an alternative lesson — bake something, teach them Blackjack (hey, it's adding), whatever. There are tons of resources to teach your kids without fighting them to sit at a desk to do worksheets.
The second card pulled, Tranquility, is a reminder that this is also a time to slow down.
We've been given this time that allows the freedom to play with inspiration and explore our creative side. It should be a peaceful, relaxing thing to do.
We're not picking up a new skill to use as a side hustle. We're not filling our schedule with all the things we can do at home. We're not creating a super strict home schooling schedule.
Personally, the only thing I'm putting in my planner these days is my weekly focus reading, my meal plan and grocery list.
So create in whatever way you find yourself wanting to create. Just make sure you're getting a little tranquility and peace in the process.
New Moon in Aries
Aries is the first sign of the zodiac. I think of Aries, and I think of my almost-5-year-old. He's loud and stubborn and super energetic. But he's also passionate and driven.
I think of the character Anger from Inside Out. When Aries, blows up…Aries blows up.
But again, they're passionate!
New moons = new beginnings. So this is a perfect time to find the things you are passionate and driven about. Dive into your creative side. You're home anyway, you may as well discover if you have a hidden passion for painting, knitting, sewing, working out (y'all, I just did three workouts this morning and I'm feeling PUMPED), whatever.
There's really no better time to dive in and learn what you're passionate about. You're stuck at home, there's all that new moon energy, it's spring time (also about new beginnings) and we're in the first sign of the zodiac. There's a lot of energy around us pushing us to do something. Anything.
New Moon Magic
The new moon falls tomorrow: Tuesday, March 24. Spend some time this evening or tomorrow deciding on something you either want to learn or start.
It can be as big as learning a new skill or as small as starting a new book. Start a work out routine. Learn a new language. Start a virtual hangout with your friends. Learn to knit or crochet. Start waking up an hour earlier. Start a self-care routine before bed.
Whatever you choose, make sure you actually start it.
Resources
No journal prompts this time. Instead, here are some resources that are helping me stay sane and motivated while being stuck inside the house.
Get Up, Get Moving: Find Your Tribe Fitness is offering free, kid-friendly workouts 3x/week. Loving them and want more? Consider supporting a small business by subscribing. Subscription gets you a workout M-F plus meal plans and grocery lists. The tribe is amazing and super supportive.

Create with Cassie: I came across Cassie Stephens on TikTok and fell in love with her super, colorful outfits (seriously, I need to learn how to sew so I can recreate some of her looks). She also happens to be an art teacher and is doing free live art lessons for kids M-F. You can find her lessons on YouTube.

Read-a-thon: Public libraries may be closed, but with apps like Libby, Hoople and Overdrive, you can still check out e-books and audiobooks. All you need is a library card and you're good to go! Audible is also offering free stories for kids while schools are closed.

Netflix Party: I came across a Google Chrome extension, Netflix Party, that allows you to have a watch party with your friends. I haven't used it yet, but I'm looking forward to trying it out soon.

Switch it up: I'm not saying you need a Nintendo Switch, but I'm not not saying it either. Animal Crossing just came out and is very relaxing and low-key. Plus, you can play family favorites like Mario Party and Mario Kart or discover new co-op favorites like Overcooked. Besides, you know you want to try Untitled Goose Game — basically a game where you get to be an asshole goose and go around stealing shit and annoying people. Yea, that's it. That's the game.

C25K: I downloaded this app a couple of weeks ago to help me start running. It's been raining pretty much every day here, but if weather isn't an issue for you, consider this an easy way to get outdoors and stay active. The first week is only running 30 seconds, walking 1min for a total of half an hour.
---
Thank you for subscribing to "Moonlit Musings". I will be taking a hiatus for the month of April and will return in May with a new format. Thank you for your patience! In the meantime, if you find yourself curious for a personalized tarot reading, feel free to book a session through my website.